Good news is that political let-downs have left my subconscious and been replaced by
multi-talented transvestite comedians
.
The bad news is I woke up to the huge disappointment that I am not, in fact, Eddie Izzard's lover and confidante as my brain led me to believe sometime between 4:20 and 7:30 this morning.
DAMN. And Mondays are harsh enough as it is.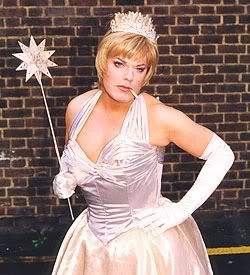 I know what happened. I've been gorging myself on Season 1 of the FX show,
"The Riches"
that stars Izzard and Minnie Driver as husband and wife Travellers - a real-life culture of grifters that live off the grid. Along with their three kids and an RV, they opt to "steal the American Dream." It's brilliant.
I love the characters, love the writing, love the actors but most importantly, I get to take in Eddie dressed up in man clothes. With facial hair, even. Since he is a tried and true transvestite or "male lesbian" as he explains it, the image of him in a suit and tie only intensifies my crush. The fact that he and Minnie have random, sweaty sex at least once every episode doesn't help my condition.
If I can just hang on until July 30, when I (along with a few lucky others) will be sitting mere feet from my dream boy at the Paramount Theater in Denver. I may need to wear some type of restraining device over my muzzle, like the dogs in Wash Park. Maybe I should get a pink one with rhinestones ...
I love Eddie. I want to stick
a flag
in 'im.