Les Paul, the guitar legend and inventor who changed the course of music with the electric guitar and multi-track recording and had a string of hits,
left us today
. He was 94.
Of course, we music lovers are sad but let's face it, 94 years on Earth - much of them jamming on a guitar - can absolutely be considered success. I will surely spend the evening strumming my own humble guitar in his honor and remembering my brief encounter with Les.
In October 2006, I found myself in New York for work. I'd come back to my NYC homebase, the
Roger Smith Hotel
on Lexington, after some corporate-themed wine-tasting event but was still mighty restless. New York has that effect on me. So I headed out for a stroll and in a move
I will never forgive myself for
, opted NOT to take my camera.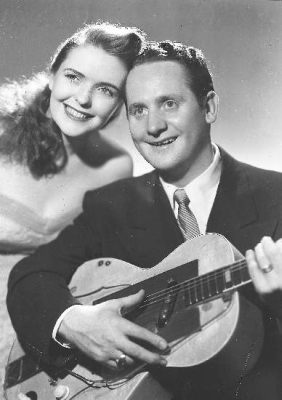 As I headed toward Times Square, I recalled a tip from a random CEO I'd met earlier in the evening.
"Drop by the Iridium club if you get a chance,"
he'd said, in between fancy cheeses and the exotic olives,
"I hear Les Paul still plays there once in awhile."
And so, I had a goal, to find the Iridium. I had fun asking folks all over the place, mostly street food vendors, about the club. At last, I found myself happily forking $25 for the honor of seeing the Master perform.
Being only one person (always the big upside), I easily found a spot in front in the tiny underground club. When Les finally took the stage, he was greeted warmly by a crowd who knew a legend was in their midst.
Of course, he worked his guitar (a Gibson Les Paul, natch) like a virtuoso with soul. Les told stories upon stories about the days when he
"and my Mary"
(his musical partner and wife, Mary Ford) would perform together. There really should have been a campfire going with Grandpa telling tales by the moonlight - this is what it felt like. I felt so smart for being there.
It was similar to when I'd interviewed the fellow who'd invented the birth control pill, I was overwhelmed with the man's global effect. This is the dude who basically invented the electric guitar! Unbelievable. Bob Dylan should be washing his feet.
At one point, the room broke into singing "Happy Birthday" for Les, even though he'd turned 91 four months before. Clearly, he loved it and commented,
"When you get past 90, everyone wants to celebrate your birthday all the time, which is fine by me."
After the lengthy show (I remember thinking, 'Um, I thought old people get tired. No?'), a handful of us stood in line to buy a CD from Les' brother. He had them in a big cardboard box behind an amp. A few of us stayed a bit longer, as the club staff cleaned up around us, in hopes of meeting The Man.
Sure enough, he came out and an autograph line quickly formed. Now, I am not much of an autograph hound and have only asked for one other in my life. (I'd asked Phyllis Diller to sign her 1955 comedy album.) This was the exception - Les Paul is musical royalty.
When I reached the front, I fawned like a Beatle fan circa 1965. He loved it.

"What's your name, doll?"

"HEATHER! MY NAME IS HEATHER!"

"That's a beautiful name. Thanks for coming down, Heather."


"HAPPY BIRTHDAY, LES! I CAN'T BELIEVE I FOUND YOU!"
(Laughing now)
"I feel pretty lucky to be here. Hey, maybe I'll get a kiss for my birthday?"
"OF COURSE!!!"
I planted a big wet one on him so fast and he threw his head back and laughed some more. What a delightful man. I love it when legends don't let you down. I floated all the way back to my hotel and read the inscription on my CD, "The Best of Les Paul: The Millennium Collection" over and over again.
"To Heather. Hi, Doll! Les Paul."
RIP Les. So glad you are back with your Mary. Tell her we all said hello.