I hate to be Darcy Doom here but I'm starting to think that a Depression - that's right, the 'D' word - is in our near future. I was discussing this recently with my neighbor, Tim, and said,
"When I start to see photos with people in long lines, that when the imagery will start to become eerily familiar."
Then, the next day I see this photo by Tim Chapman of the Miami Herald showing over 1,000 people lined up TWO DAYS EARLY to apply for 35 firefighter jobs. Yeesh.
Or this from Kentucky:
And let's not forget all those shameless folks lining up in their pajamas for a free breakfast at Denny's: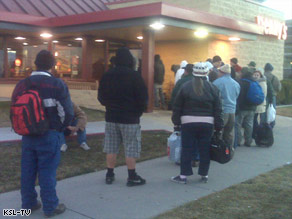 I also heard there was a line at the Returns Desk of Neiman Marcus but no photo available.