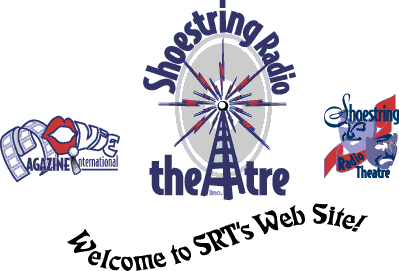 When I moved to San Francisco in February 1997, I knew one person in town, Michelle, my roommate and childhood friend. For several months, I hung out with her and her friends became mine. Eventually, I branched out on my own, socially speaking, and the first friends I made on my own were Monica Sullivan and Steve Rubenstein.
Monica and Steve are not only husband and wife but partners in two wonderful creative ventures,
Shoestring Radio Theatre and Movie Magazine
- both on KUSF. (In addition to airing locally in SF, both shows air on 111 stations in 34 states plus Montreal, Canada.)
As the description goes:
"Shoestring Radio Theatre is a nationally-syndicated radio drama program featuring original radio plays by contemporary writers as well as adaptations of traditional favorites — everything from classic murder mysteries, 'radio noir,' and historical dramas to contemporary comedies, thrillers, and science fiction."
Thanks to them, I screened gobs of films, interviewed noted actors and directors and also gave the performance of a lifetime portraying an angry French whore in one of the Shoestring productions.
I hosted, co-hosted, directed, acted and made a hallway sound like an island cave.
Steve & Monica also gave me the opportunity to adapt and direct my favorite graphic novel/comic book. Bringing
Terry Moore's
"Strangers in Paradise"
to life was an experience I'll never forget. All of it - every second - was a blast. I love my life now but I miss Steve and Monica and I miss Shoestring/MM terribly.
Public radio, as you know, is supported by listeners and underwriters and a financial boost is needed. So, Shoestring Radio Theatre is hosting a fundraiser for its home station, KUSF (90.3 FM in San Francisco) tomorrow, December 12. If you can, stop by the Paul Mahder Gallery, 3378 Sacramento St., and watch Shoestring players perform a live, simulated, radio play. Admission is free and donations to KUSF will be welcome and encouraged. The event will run from 7-10 pm. For more info, you can contact Shoestring by email (srt@shoestring.org) or phone, 415/999-2894.
Please tell everyone you think might be interested. The more people who show up the better. If you can't make it physically, like me, consider sending a donation:
Monica Sullivan, Producer
Shoestring Radio Theatre
P.O. Box 590163
San Francisco, CA 94159-0163
As always, thanks for tuning in.